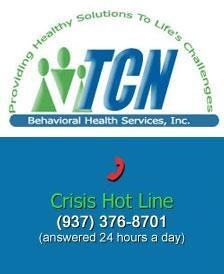 We recently interviewed Chris Pinkelman, Associate Director of Clinical Services at TCN Behavioral Health Services, Inc., who works with colleges and universities to help at-risk students adapt and integrate into college life.
During this conversation – part of our suicide survivors podcast series – Chris explains that there are many stressors and risk factors for young adults who are leaving home to attend university, and who also live with mental illnesses, such as depression or anxiety.
Green County, Ohio, has the most colleges and universities of any county in the state. Because of pharmaceutical advances, many at-risk young adults are now able to go away to university. However, these advances translate into more students coming onto campus without a support system. For instance, Chris highlights how some students may feel a sense of shame and not take their medication. Or they may have difficulty navigating the insurance procedures in order to fill their prescriptions.
As a community behavioural health organization, it was natural for TCN to make a connection with these universities. He describes how TCN would get calls for crisis interventions – e.g., students who stopped taking medications, a death by car accident, the death of a member of a sports team at home for vacation.
TCN knew it was important to be able to talk to staff and be available to students, but the organization didn't initially have relationships with anyone on these campuses. They needed to connect with counseling and health centers in order to begin building relationships and increasing awareness.
Chris shared that one of the keys to success in providing a support system was the health care provider getting in with the schools and working with the residence assistance programs. Students working in the Health Care Coalition were tapped for creating videos, brochures, etc.
TCN, in conjunction with college and university assistance programs and staff, along with city, county and state services, was able to create a series of recommendations that can help parents and students prepare ahead of time to facilitate integration and lower risks.
TCN, as a suicide prevention coalition, feels it can make a big difference if campus professionals and students know that there is a resource as part of residence life, and included in orientation for freshman – e.g., the kinds of warning signs that could present themselves to indicate that a fellow classmate, dorm mate or roommate might need help.
Students and parents working ahead of time can help reduce the sense of shame that can occur with mental illness and addiction. This is especially important if the community lacks an understanding of the difficulties.
To hear more about this important program, listen to the full podcast here.
If you are feeling suicidal or need help for yourself or someone you know, please consult IASP's Suicide Prevention Resources to find a crisis center anywhere in the world. In the US, call toll-free 1-800-273-TALK (8255) for a free suicide prevention service or visit SuicidePreventionLifeline.org.
Are you a survivor of suicide or a professional who works in the suicide prevention field? If you'd like share your story on our blog because you think it could help others or build connection and awareness, please feel free to contact Jennifer Rojas (our Blog Editor and General Manager) at jennifer.rojas@aureliuspress.com