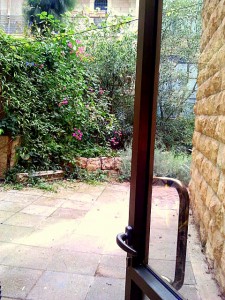 Random thoughts/rattlings from a place where a percentage of the population wants to kill you and has been killing and maiming people on the street almost daily for the past few months with knives, meat cleavers, screwdrivers, bullets, cars and scissors:
That split second in-between reaching for the door to go out of your apartment building, onto the street, and feeling the lovely, sunny autumn air on your face – a split second that would normally feel pleasant and hopeful for a person like me, who likes to be "out and about" – is now tainted by, "Wait. What shoes am I wearing? Can I run in these? Could I get away, or would I trip and fall down only to be bloodily devoured like a gazelle on the Serengeti Plain? OK, yeah, I've got the pepper spray handy, but what if that's not enough? What if the blind hatred and rage behind a knife is even stronger?"
What if my choice of footwear today means the difference between life and being hacked into body parts like meat at the butcher?
The physical surroundings outside of my apartment are beautiful – lush, vibrant trees and flowers in an array of gorgeous colours.  The air smells fresh, but no longer welcoming. My brain finds it difficult to reconcile this beauty with what might be lurking behind it.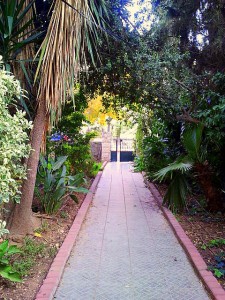 For an ENFP, who gets her energy from the outside world, these feelings are distressing particularly because the current outside world in my city seems surrealistically scary. Untrustworthy. Nonsensical. That the energy I'd love to soak in from "out there" is unhealthy at best and life-threateningly dangerous at worst.
Daily errands are accompanied by thoughts of, "Let me run out to take care of this quickly. Please let me get to where I'm going without being attacked. OK, I've done my task, now please let me get home without getting attacked."
I need to go out to buy butter, sage and celery. A pleasant walk on a lovely day to collect some items for a holiday of gratitude instead becomes a cost-benefit analysis: "If I die today because I went out, would those items have been worth it? If it's gonna happen, shouldn't it be for more 'important' things? What would those literally 'to-die-for' grocery items actually be?"
If I got attacked and hurt or dead when I chose to go out for celery, sage and butter, would that make me a stupid, trivial ass who deserved it?
You can see how absurd the thought process becomes when one feels threatened. This internal commentary is the antithesis of my hard-wiring, which has always been to feel at ease in the world, with an openness that attracts all kinds of people in random settings wherever I go. Which has brought me beautiful, raw, gratifying human interactions the world over. For me, these human  interactions are the stuff of life.
Life in this place, at this moment, is a challenge to the essence and core of my being. This is what violence and fear can do. And I'm one of the lucky ones so far.
Do you have your own story about things falling apart and your plans going awry (and what you did after that)- personally or in business? Have you experienced living with violence at any level (domestic, professional, geographical)? If you'd like share your story on our blog because you think it could help others and build connection, please feel free to contact Jennifer (also our Blog Editor) at jennifer.rojas@aureliuspress.com